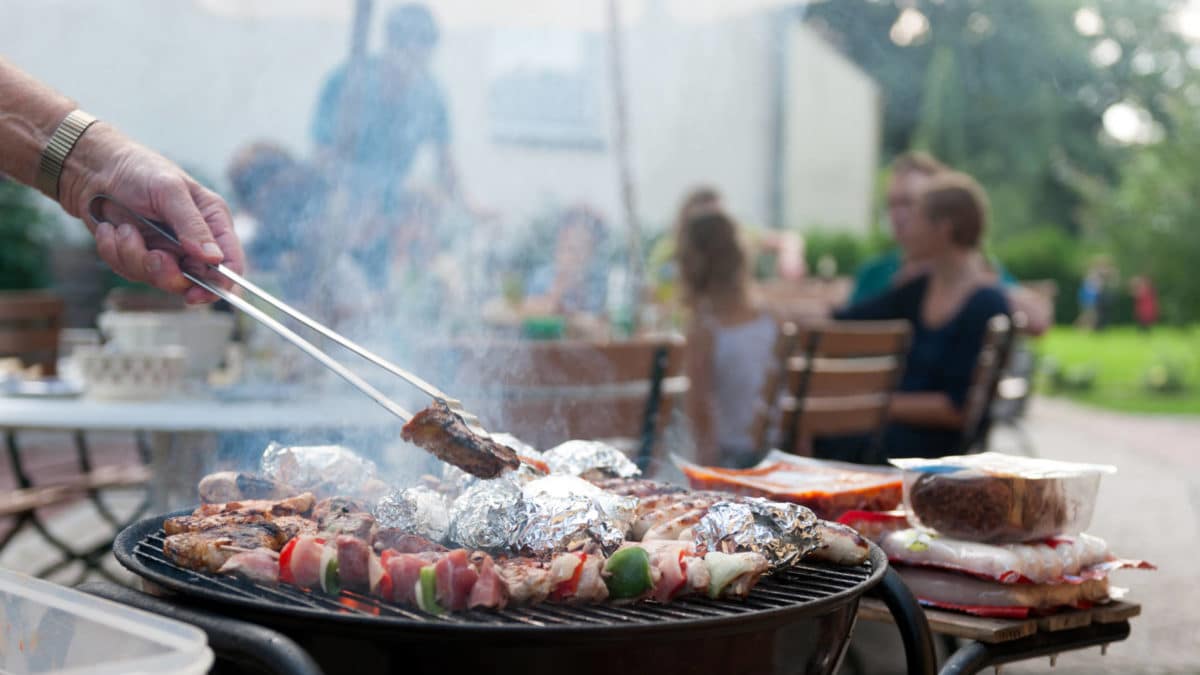 Are you planning a campfire cookout soon?  Whether you are planning to go as far as the backyard fire pit, or you are heading out camping with the crew, you can probably benefit from a reminder on how to make a seriously successful campfire cookout.  The thing about cooking over a fire is that most of us only do it a couple of times per year and that is almost only during the summertime. So, as much as we may all want to be pros at campfire cooking, we aren't.  That's okay though, because we have put together for you this list of 5 Tips for a Successful Campfire Cookout that is sure to get you back on your campfire cooking game. Are you ready?
5 Tips for a Successful Campfire Cookout
1.Choose the right wood to burn
The wood you use in your fire is a huge factor in having the best foods. Here are a couple of important things to remember when you are building your fire for cooking.
First and foremost, do not burn highly resinous woods and/or softwoods (pine and juniper, for example). These woods burn too quickly for cooking, they give off very unappetizing aromas and most importantly some can be toxic to foods.
Next, make sure that your wood is completely dry. If you are struggling to keep your fire burning, the food is not going to turn out well.
Choose your wood based on the flavors you want added to your foods.
Like a smoky flavor? Use hickory or mesquite
Like a sweet, fruity flavor? Use apple or cherry wood
Prefer no added flavor? Use a hardwood such as oak
2. Get a fire grate
If you are camping in an established campground, chances are, you will already have a fire grate, but if you are cooking in your backyard fire pit, you might want to consider purchasing a grill grate. Yes, you can cook with sticks over the fire, but honestly, it's just so much easier to use a grate to do it and your options for cooking grow!
3. Use the right cookware
You cannot use your household cookware for a successful campfire cookout. These products are not made to cook over an open flame, and frankly, the cleanup is a disaster. This is especially true if you are using primitive cleaning tools at your campsite. I am a big, big fan of using disposable cookware when you are camping or cooking in the backyard fire pit. I refuse to use poorly made disposable cookware though because I actually want to eat the delicious food we are cooking. I am not a fan of watching my dinner spill into the flames when the cookware rips open or falls apart as you are trying to remove it from the flames (as you can tell, I've made that mistake before). If you are wondering how to prevent that, Handi-Foil makes the perfect cookware for a successful campfire cookout. Here are some of the products that I like to use over the flames:
Extra Deep BBQ King Utility Pan (these are perfect for keeping hold of all of the foods you will be cooking as well as any sauces that you have thrown in)


Four Roaster Baker Pans with Lids (I like to use these for cooking on the grill. These are also my favorite for keeping your food safe and bug-free while you wait for the rest of the meal to be done)
Instead of cooking the food directly on the grill, I put them into these pans. They cook very well and maintain more of their moisture during cooking, but also you don't have to worry about your food falling through or sticking to the grate when you go to pull them out. Instead, they can marinate in their sauces while cooking over an open flame.
4. Have roasting sticks on hand
Whether it's a family affair or an adults-only cookout, it goes without saying that a successful campfire cookout cannot be accomplished without s' mores. Am I right? S'mores cannot be made without the perfect roasted marshmallow, which means that you need to have roasting sticks on hand. If you are wondering how to make the best s' mores, these
Campfire S'Mores
are my absolute favorite.
5. Plan your recipes in advance
Make sure that you know what you are planning to cook before you even begin your cookout. If you are blindly staring at the flame, not knowing what to cook, the campfire cookout will not be so successful. Plus, if you plan your meals in advance, you are less likely to forget any ingredients. These 5 tips for a successful campfire cookout will make sure that everyone has a great time at your cookout and no one leaves hungry. Hungry campers are not happy campers.